Khanday
 Best Business and Corporate Lawyer in Nepal.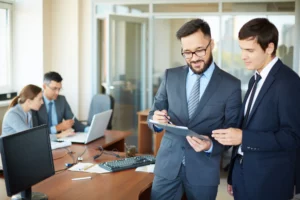 Law firm in Nepal: Business and Corporate Lawyers in Nepal.
Start with us for an organized, safe, and successful investment of yours.
Navigating the complex world of corporate & commercial law? We ensure the success of your business with the help of the best  business and corporate lawyers in Nepal. Law Firm in Nepal with expertises in corporate law can assist you with a variety of topics and issues relating to corporate law and commercial law.
Lawin and Partners Law firm in Nepal with best business and corporate Lawyer in Nepal offers a broad range of services in the representation of corporations, partnerships and limited liability companies, banks and other financial institutions, foreign direct investment also INGO's and NGO's. We assist all kind of local and foreign entity to establish and effectively operate their businesses .
Our experienced business and corporate  lawyers in Nepal are skilled with commercial transactions, drafting and negotiating commercial contracts and corporate matters. Lawin and its corporate lawyers in Kathmandu  helps prepare the documents necessary to bring and establish new investors in Nepal and also assist to dissolve or liquidate the businesses. Our corporate lawyers in Nepal assists  in reviewing and preparing shareholder agreements, operating agreements, employment agreements and similar contracts which business organizations necessary enter into.
Our corporate lawyers assist you with multiple business services to foreign and domestic companies and business wishing to establish and engage in any business activities in Nepal.  Our services include all kinds of Foreign Investment, Intellectual Property, Franchise related Documentation, Company Incorporation in Nepal, many contracts and agreements draft, Corporate Compliance Agreements, Legal Opinions, Business Due Diligence, Opening Subsidiary, Regulatory Approvals and litigation.
Lawin a business and corporate law firm in Nepal also does commercial litigation practice that has helped corporations, professional services firms, financial institutions and individuals bring and defend a wide-variety of lawsuits throughout the country. The firm has routinely represented businesses and individuals in significant and complicated breach-of-contract cases, shareholder disputes, and matters of mismanagement or breach of fiduciary duty.