Best Family Lawyer in Nepal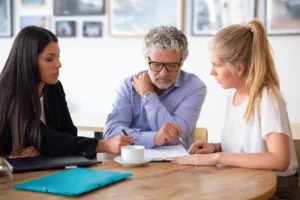 Best family law firm in Nepal with the best family lawyer in Nepal;  Lawin and Partners will assist you with all the steps needed in your family disputes and cases.
We as the best Family lawyer in Nepal focus exclusively on all issues relating to family law, common law, separation and divorce. We know family law inside and out, and always push its limits in best interest of our clients. Our innovative approach to how family law cases should be handled and resolved is leading us for the years of success in the legal field.
Our family law clients are like our family to us, we lead them to the extent of best outcomes in  timely manner in the case.
Family law usually involves living together, marriage, divorce, custody of child, property division, inheritance and succession and adoption. 
Best Family Lawyer in Nepal handle many complex family law matters, which include matters related to marriage registration of Nepalese and foreigners in the court,  divorce, child custody and child support, partition of family property, property cases and among others. While cases pertaining to family law often involve difficult tasks, our attorneys meet those challenges head on by combining an extensive knowledge of family law with a strong work ethic and sensitivity to the emotional needs of our clients.
Family lawyer, Divorce lawyer in our firm help navigate below family and Matrimonial Disputes,
Living Together Disputes: Living together is a new trend in Nepal, however our country don't have law to address this kind of disputes. For solving all the living together disputes legally, different approach are applied legally, Nata Kayam,  DNA test  for child born form physical relations, disputes in financial transactions etc.
Marriage registration: Marriage registration is done through different authority, law has provided authority to Ward Office (Local authority) and district court to get marriage registered. Foreign national couples and Nepalese both can get married in the court of Nepal.
Matrimonial disputes/Judicial separation: Judicial separation is recognized by law of Nepal where husband and wife relation can be separated legally and have their own life but it is not end of the marriage relation if there is anykind of matrimonial disputes between husband and wife.
Divorce: Authority is given to the court for the divorce no any institution or couples can divorce without legal and formal process. Divorce is only legitimate through court of Nepal.  Foreign nationals and Nepali nationals can entertain the jurisdiction of divorce in court of Nepal. Generally two types of marriage is practically applicable in Nepalese court, i.e consented and unconsented. Consented is a quick and easy process where both couples comes agreeing in terms and conditions of divorce whereas in the unconsented many couples will have dispute on many subject matters and process in the court takes more than a year of time duration for final judgement. Connect with the best family lawyer in Nepal today
Domestic violence/order of protection : Domestic violence is one of the serious problems in Nepalese traditional society where female are always dominated by male.  Wife/women are more victim of domestic violence rather than a husband/male. Domestic violence and disputes are addressed by the CDO office, police women and children cell, local authority , and even directly file the case in the court by the victim claiming the compensation. 
Division of properties: Property division and partition disputes get arise within family members and relatives, where there is no consent of members for having a consensual division of the property.  If any one of the coparceners is not accepting consensual partition he/she claims the property in the court.
Child custody: Child custody is the major decision to be taken when husband and wife gets judicial separation or divorce. Wife and husband must come to consent or otherwise court will decide the custodial right of child to the parents. 
Maintenance & Alimony: Alimony and maintenance cost is claimed by the wife who earns less than husband or do not have her income in the court specially in property case or divorce. Along with the wife claim on behalf of children  too can claim alimony and maintenance  cost can be claimed and will get until and unless wife and children don not property in their own name. 
Adoption:  National and international couple can have the facility of Adoption of children in Nepal fulfilling the  criteria mentioned by the law of Nepal.