Best Immigration Lawyer in Nepal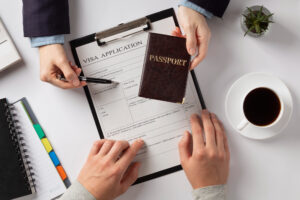 Our law firm has the best immigration Lawyer in Nepal who want to serve your immigration-related problems with efficiency. Do connect with us now.
According to Immigration Act  if an individual is found to have been involved in criminal activities or convicted, using a fake passport or visa overstay constitutes a violation under the immigration law provisions and may result in deportation or expulsion. Our immigration lawyers have assisted our clients in many overstay cases and well for those foreigners who was criminally accused in Nepal with different crimes to return them to their country.
Lawin immigration lawyer legally assist to prevent deportation or expulsion from the country, as well as to ease the deportation process and ensure that you do not remain in custody. Best immigration lawyer in Nepal we  provides legal assistance in Nepal for work-related visas. Since large investments in industry and hydropower in Nepal have increased, there has been an increase in foreigners coming to Nepal to work in the Nepali industry. Individuals must go through a lengthy process to obtain a work-related visa but we assist you in the process for quick and effective way.
Our firms Immigration Lawyers supports businesses that require skilled employees and professionals from abroad. We advise on sponsoring employees, getting work visas, and much more. We assist with business visas, employment visas for foreign workers, project visas, self-employment, and student and research visa.