Branch Office Registration of Foreign Company in Nepal: Corporate Lawyers in Nepal
 Background: 
A foreign branch company can only perform activities that are allowed in Nepal, as similar to the objective of the foreign company. Branch office possesses a local representative in Nepal, who manages day to day activities of the office. Branch office must comply with local laws of registration and regulations of Nepal like taxation laws, labor laws and others.
Branch office establishment  of foreign company does not provide the legal status of separate legal personality. It shall be considered as the part of foreign company operating in Nepal.
This article highlights the legal process of Branch Office Registration of Foreign Company in Nepal.
1. Governing law of Registering branch office in Nepal :
The registration of a branch office of a foreign company in Nepal is governed by the Companies Act, 2006, Section 154 (1) of Companies act incorporates the provision related to the registration of branch office of a foreign company in Nepal.
2.Governing Authority for Registering of Foreign Branch office in Nepal
The Governing Authority for Branch Office registration of Foreign Company in Nepal is the Office of the Company Registrar (OCR).
3. Criteria of Registration of Foreign branch office in Nepal:
Registration of Branch Office in Nepal requires different Criteria for approvals also operation:
1.  Approval from government authority 
On the basis of the nature of the business and its foreign branch registration in Nepal, from the concerned government              ministry or authority authority is mandatory to operate and establish the business in Nepal.
2. Agreement / Contract of foreign business with any government authority or institution
3. By carrying out any transaction or operating business for a period of one month or more after establishing an office by foreign company in Nepal.
4.  By appointing any person from Nepal for day to day regular service on behalf of foreign company.  
3. Permissibility of Branch Office Registration of Foreign Company in Nepal
Branch office is only allowed to register in Nepal which nature of business are permissible in Nepal.
Business activities of branch office must be similar nature that of business carried in foreign country.
4. Required Documents for registering  branch office of foreign company :
| | | |
| --- | --- | --- |
| S.N | Documents | Notarization |
| 1. | Certification of registration, MOA, AOA of foreign company and its translation | required |
| 2. | Application for Branch Office Registration | Not required |
| 3. | Board Minute/Resolution of foreign company to establish branch office | Not required |
| 4. | Citizenship copy of Nepalese Representative | required |
| 5. | Letter of appointment of authorized representative | Not required |
| 6. | Signed copy of Company profile | Not required |
| 7. | Passport of all directors of foreign company | required |
| 8. | Proposed Plan of Branch Office in Nepal | not required |
| 9. | Power of attorney | required |
| 10. | Declaration of directors of company that information are accurate | not required |
| 11. | Approval letter form government authority of Nepal | not required |
| 12. | Agreement executed by foreign company with the government authority of Nepal | not required |
5. Process of Registering Branch Office of Foreign Company or Business in Nepal: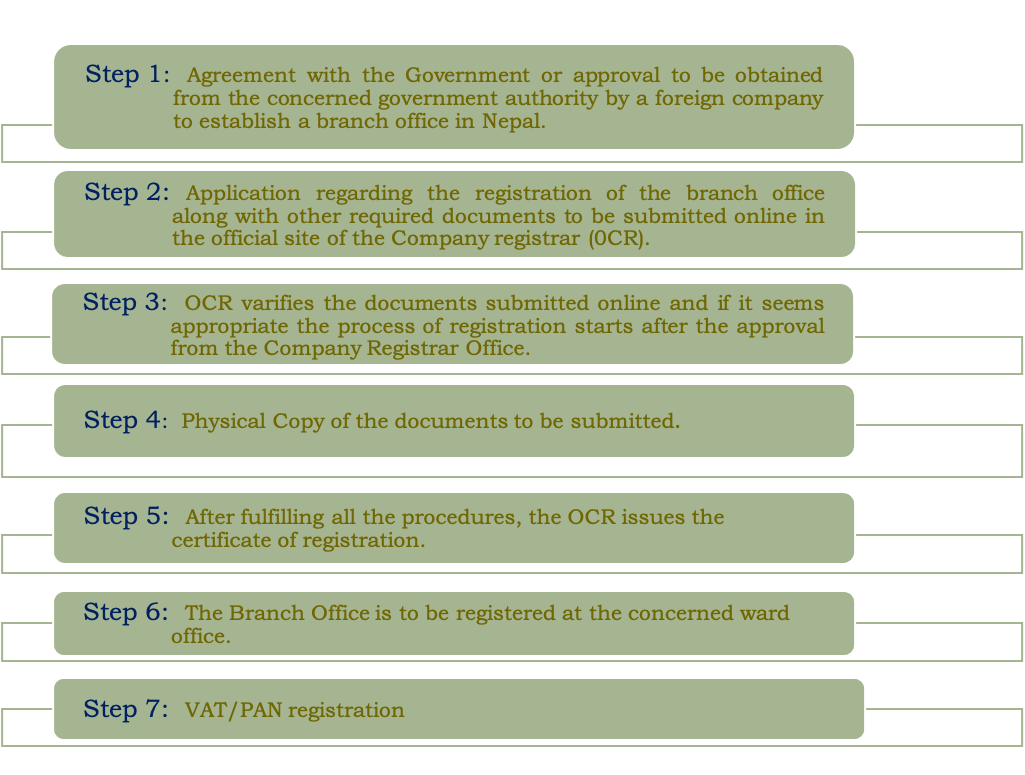 6. Time required for Registering Branch Office of foreign company:
The time required for registration of branch office takes one month and additional time is required for the approval form the concerned government offices or authorities.
7. Post- Registration Compliance for Branch Office in Nepal :
Following are the post compliance requirement of branch office in Nepal:
To be registered at local authority and the Inland Revenue Department for tax purpose to pay income tax in Nepal.
Submit 3-month compliance document before OCR;
Information to be updated to the concerned authority if any changes or amendment is made.
Submission of the balance sheet of its parent company within 3 months from its preparation date.
Appoint Auditor to prepare annual financial statement (audit report) of branch office
Annual filling each year.
Note: Branch Office has obligation to do compliance applicable pursuant to other prevailing Nepalese law including Labor Law, Social Security Law, Tax Law etc. during the process of its operation in Nepal. 
8. Difference between Branch Office and Liaison Office:
Liaison Office are contact point for foreign company to communicate, coordinate establishing relationship with local business or parties but Branch office can do business activities.
Liaison office are not permitted to generate income activities whereas branch office can earn.
No any approval form government authority is required for liaison office establishment but for Branch office approvals are required as per nature of business.
Liaison office cannot do any contract for business or transaction, advertisement and marketing for products of foreign company whereas branch office can do.
9. Difference between Branch office and Subsidiary company:
Branch office possess same personality with parent foreign company whereas subsidiary company is separate legal personality form parent company.
Branch office is liable for activities carried by foreign company whereas parent company is not liable for activities done by local subsidiary company.
Please contact us today itself if you are in search of Corporate Lawyer in Nepal on +9779841933745 or email info@lawinpartners.com
Disclaimer: All contains available here are for general information purposes. A proper legal solution always depends on your particular circumstances thus seek advice from an attorney who can provide assurances of the information contained herein and interpretation of it.  All liability with respect to actions taken on the basis of the site's information is hereby expressly disclaimed.