Foreign Business Franchise in Nepal: Franchise Lawyer in Nepal
This article describes detail about the Franchise of foreign business and its Process in Nepal.
1. Introduction:
Franchise is a joint venture business. Business owner (Franchisor) grants permission to individual businessman or business group (Franchisee) to use their business brand/name/ trademark/process and run the business. It is mandatory to register trademark of foreign business brand in Nepal for franchising business in Nepal.
Allowing the franchisee to sell a product or service under the franchisor's business name. Business model of franchisee shall be similar to franchisor and shares the some revenue to franchisor creating the commercial and legal relationship between them.
Foreign Business Franchise in Nepal is about:
A franchise works on the business model where a franchisee uses the trademark of the business owner.
The franchisee and franchisor have a commercial and legal relationship.
In the franchise business model, a franchisor sells its brand name, for which a franchisee sells products and services.
After signing the contract and other legal formalities, the franchisee can open one new branch.
Franchise registration is acceptable both in accepted and restricted foreign investment in Nepal.
2. Governing Laws:
The Foreign Investment and Technology Transfer Act, 2019 and Patent Design and Trademark Act, 1965 are the governing laws for allowing franchise of local and international business in Nepal.
3. Authority for registering foreign and local brand franchise:
a. Department of Industry (DOI) – Registration of trademark / Franchise Agreement
a. Office of Company Registrar (OCR) – business registration
b. Inland Revenue Office -VAT/ PAN registration
c. Industry specific license form concerned government authorities
d. Governing Franchise agreement between Franchisor and Franchisee.
3.  Process of Franchise for Local and Foreign Business Brand in Nepal: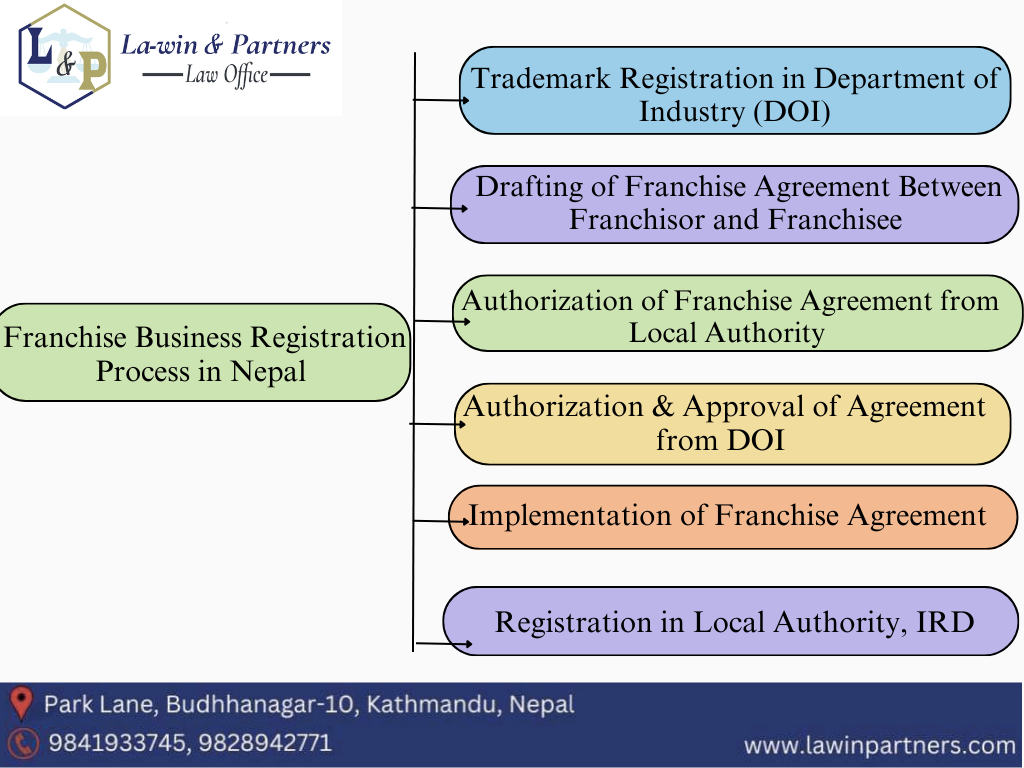 4. Required Documents for Franchising Business and Registration Process:
a. MOA and AOA of Franchisor
b. Certificate of registration
c. Trademark Certificate
d. License of both foreign and local business
e. Recent compliances and tax clearance documents
f. Industry registration certificate
g. Franchise Agreement between Franchisor and Franchisee
h. Board Minute declaring the business franchise of both local and foreign business
i. Company 's Profile
j. Shareholders passports copies
k. Power of Attorney
5. Repatriation of Revenue From Franchising Business:
Approval from Nepal Rastriya Bank (NRB) should be taken before Repatriation of the revenue of franchising business or approval is granted after paying the  applicable 15% tax liabilities.
Please contact us today itself if you are in search of Labor lawyer in Nepal on +9779841933745 or email info@lawinpartners.com
Disclaimer: All contains available here are for general information purposes. A proper legal solution always depends on your particular circumstances thus seek advice from an attorney who can provide assurances of the information contained herein and interpretation of it.  All liability with respect to actions taken on the basis of the site's information is hereby expressly disclaimed.