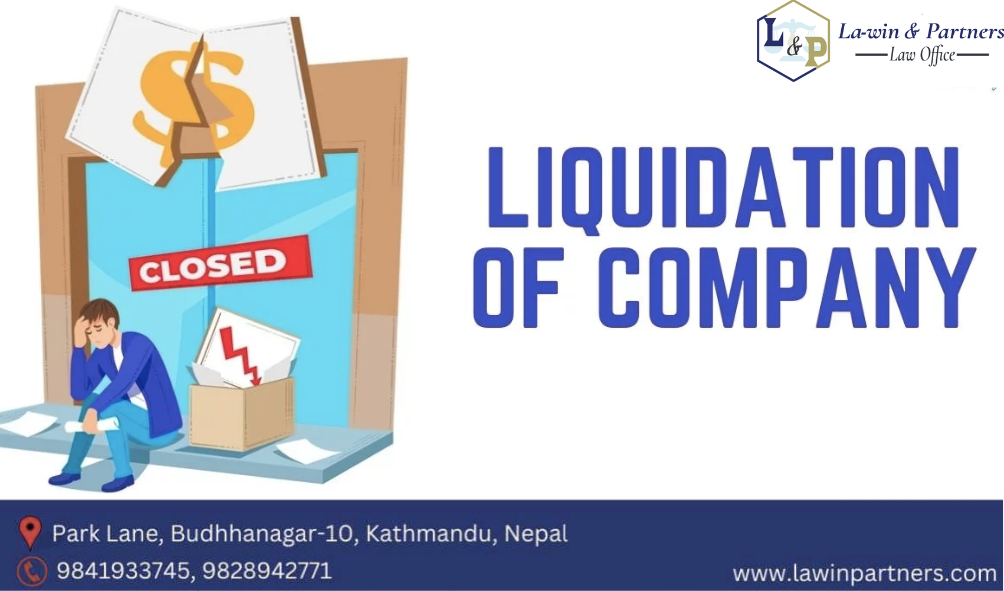 Liquidation of Company in Nepal: Company Closing in Nepal
This article explains the legal process of liquidation of company in Nepal.
1. Introduction:
Liquidation means dissolution or closing of the company or business. Liquidation is the formal process of closing a limited company. Liquidation can be used to bring about the end of a company due to insolvency. A company is liquidated when it is ascertained that the business is not in any state to continue or when there is possibility to restructure or refinance the company for its existence.
2. Applicable Laws for liquidation of Company in Nepal: 
The Companies Act 2006
Insolvency Act 2006
The Bank and Financial Institution Act 2017
3.  Types of Liquidation in Nepal:
There are two types of liquidation process available in Nepal:
3.1 Voluntary Liquidation
3.2. Compulsory Liquidation
3.3. Dissolution of company (Darta Khareji) 
3.1 Voluntary Liquidation:
Chapter 10 – Section (126) of Companies Act 2006 has mentioned about voluntary Liquidation. Voluntary liquidation must follow legal process and ensures all the creditors are payed:
a. Shareholders of the company themself decides for closing the company.
b. Paying all the liabilities with or without involving the court and close their business.
c. Company adopts the special resolution or consensual agreement for voluntary liquidation
Circumstances for Voluntary Liquidation:
a. If the company is able to pay its debts or other liabilities in full;
b. Company must be subject to insolvency proceeding under prevailing law on insolvency.
c. Directors must declare in written form that company is able to pay debts and other liabilities and settle issues within one year form the date of resolution made for liquidation.
d. Written declaration of directors must be declared in General Meeting.
e. Submit the written declaration must be submitted to OCR within 7 days of adopting resolution.
Appointment of Liquidator and Auditor and timeline for liquidation:  
Company will appoint a practitioner licensed liquidator and auditor to conduct the liquidation process.
Company shall provide the information of appointment of liquidator to the OCR and liquidator shall exercise all the power for operation and management of company.
Time for liquidation process is allocated during appointment of liquidator by company, incase with any circumstance liquidator cannot finish liquidation in allocated time reasonable time may be extended.
Process of Voluntary Liquidation of Company: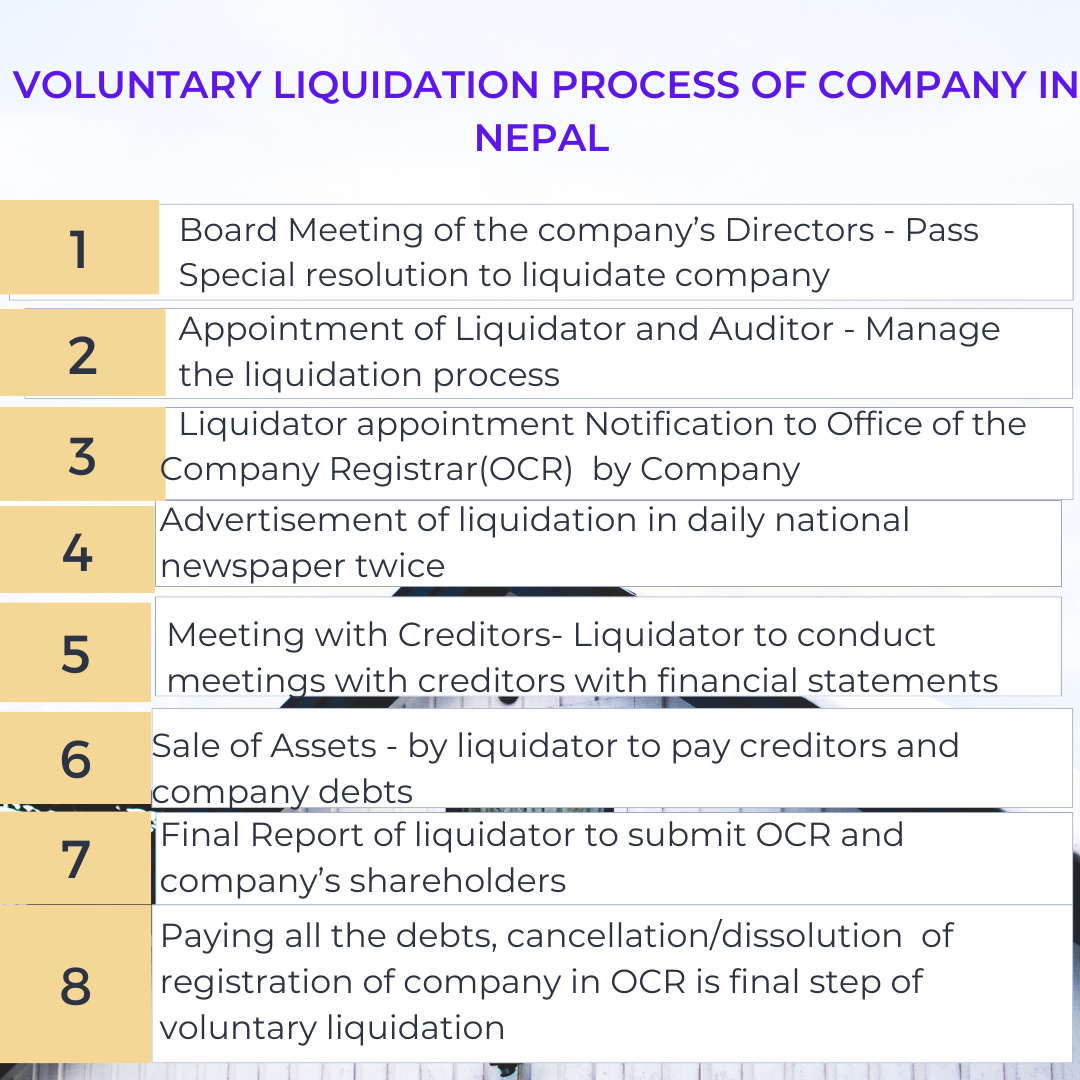 3.2. Compulsory Liquidation of Company in Nepal: 
Compulsory or involuntary liquidation of company is legal process where creditors, government authority, company itself or shareholder can proceed for the liquidation process. Insolvency Act  (2007) and related regulations governs the compulsory liquidation process. High court orders for the liquidation of the company.
Circumstances for Compulsory Liquidation process:
a.  When company is in insolvent position and is not liable to pay its liabilities.
b. Court decides for liquidation proceedings and appoints the liquidator enlisted at OCR
c.  The liquidator is responsible for selling the company's assets, paying off creditors, and distributing remaining assets to shareholders.
Process of Compulsory Liquidation of Company in Nepal: 
Below chart shows the compulsory Liquidation of Company in Nepal.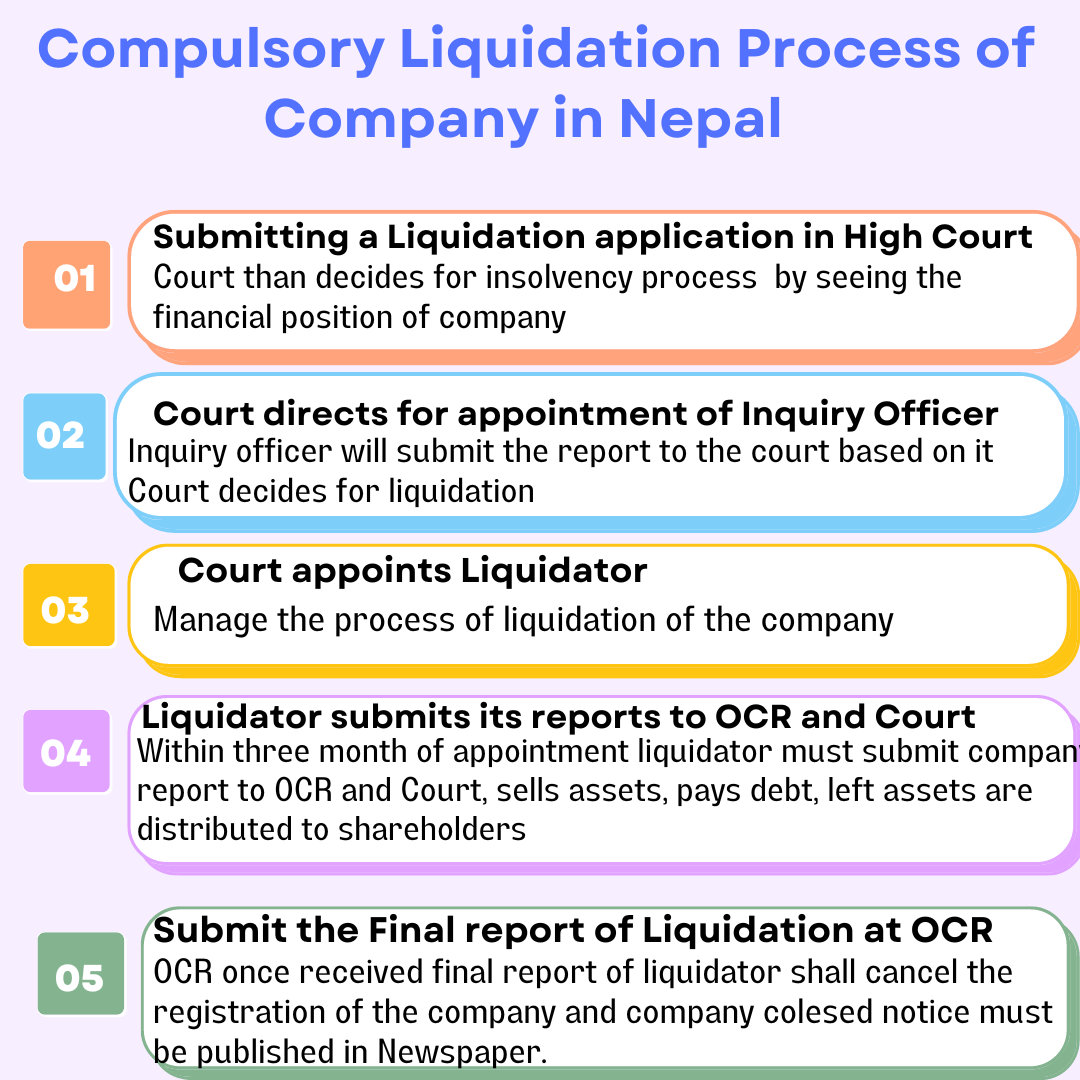 Steps for Compulsory Liquidation of Company in Nepal.
Submitting an application request high court for compulsory liquidation
The court has to decide whether to initiate insolvency/liquidation proceedings or not. If accepted, the court appoints an  inquiry officer.
The director will be responsible for submitting all details of  account of the finance to inquiry officers and submit it to the court.
 Court will appoint a liquidator if court decides to liquidate the company.
 Report of the company's progress to be submitted to OCR and the court within three months of liquidator appointment.
Once liquidator completes its study and process of liquidation he/she must submit the report to OCR and court. Report must include companies properties, loss and payments to creditors , shareholder if any and without contradicting with report of auditor and must declares company liquidated.
Once the OCR has received the final report, OCR deletes the name of the company and confirms company is closed that must be notified in daily newspaper.
3.3. Closing company in Nepal without liquidation (Darta Khareji)
If a company has not fulfilled the compliance liability or submitted any updates/documents to Office of Company Ragistar (OCR) shareholders can dissolve/close the company easily without liquidator.
Companies Act 2006 has mentioned about the details of closing the company without liquidator.
3.3.1 Process of Dissolution of Company /Darta Khareji in the chart.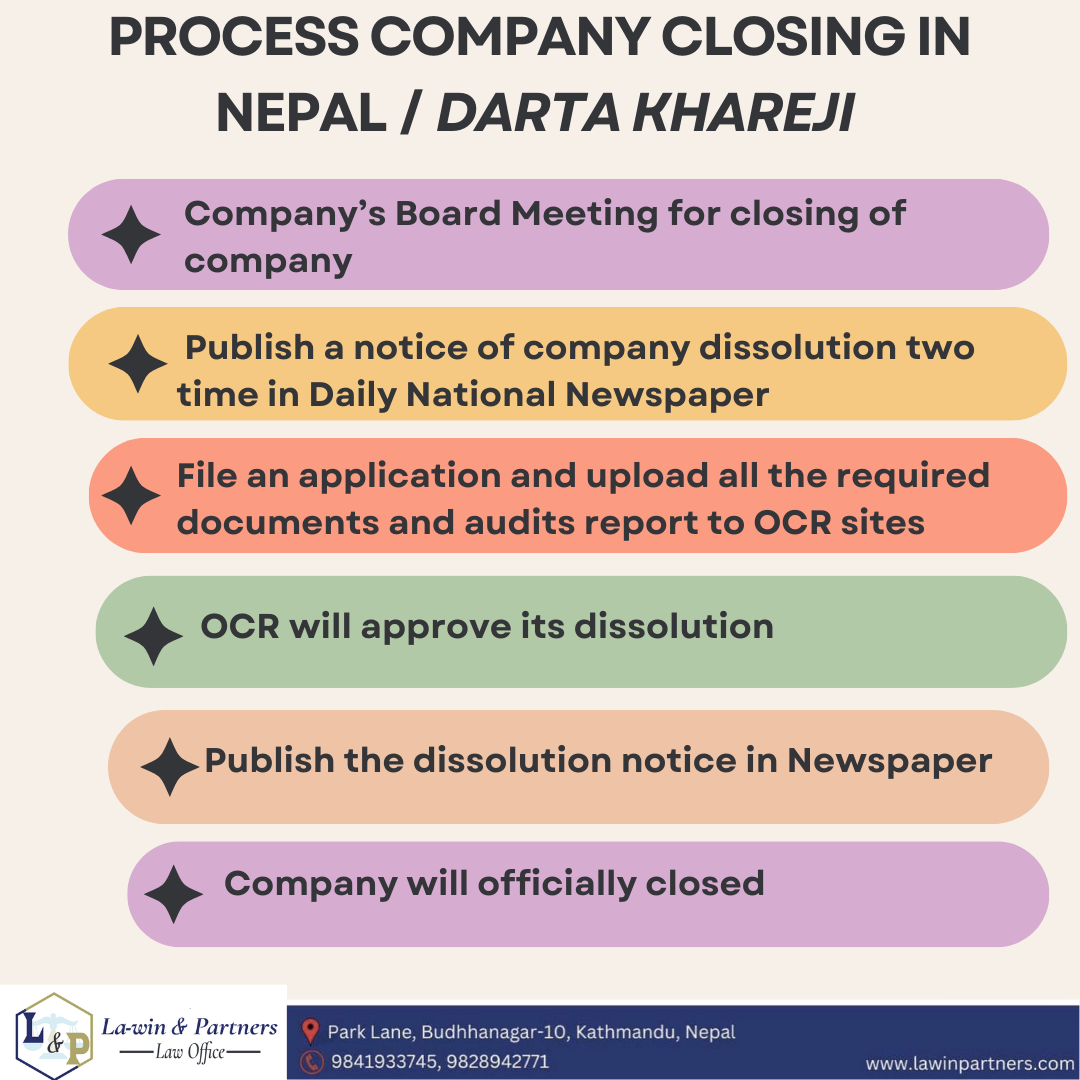 3.3.2. The process for voluntary dissolution typically involves the following steps:
Board meeting resolution for dissolution
Resolution to be discussed in general meeting of shareholders.
File a application for voluntary dissolution in OCR
OCR will instruct to publish the notice in Daily National Newspaper twice
Submit the Newspaper publication to OCR
OCR provides after procedural completion notify to shareholders.
Officially OCR provides company dissolved letter.
4. Restructuring of Company instead of dissolution:
Company Board can make a significant decision for restructuring the company instead of dissolution and operate business with the reinvestment, change in team members, new stock opening, teaming with another company and many more with the help of court decision:
Insolvency Act 2006, Chapter 4, Section 26 mentions about the restructuring of company to improve its financial situation.
4.1. Process of Restructuring of Company :
4.1.1. Prepare Restructuring Scheme of Company:
Once Court makes order to restructure company, restructuring manager prepares restructuring scheme of company in writing which  includes:
a.  To capitalize the debt of the company and alter the capital structure
b. To pay the claims of creditors by selling any portion of the assets of the company
c. To change the nature of claims of creditors of the company and issue securities for the same
d. To get the creditors of the company to participate in capital investment by issuing shares in consideration for their claims;
e. To amalgamate the company with any other company;
f. To change the management of the company
g. To do any such other act which the Court considers appropriate to restructure the company.
4.1.2. Meeting with Creditors:
 Restructuring manager shall provide notice to all creditors to submit claims along with respective proofs and evidences within 15 days.
 Notice shall be published in daily newspaper twice and to the company's website.
All the creditors shall be submit the claim within time-limitation along with evidences.
Restructuring manager shall call meeting to creditors with requirement all proposal of restructuring.
 The creditors shall discuss details of restructuring program and adopt the resolution either to adopt the proposal on restructuring or immediately liquidate company.
Same resolution of creditors shall be submitted to court for approval and shall be implemented accordingly.
4.1.3. If the creditors resolution submitted by restructuring manager is implemented and adopted than decision of court shall be              binding to all creditors, directors and shareholders.
4.1.4. Restructuring manager shall keep the records of account, documents and manage and control transaction and properties of             company.
4.1.5. Restructuring manager will keep company alive with proposed restructuring plans.
4.1.6. If company is able to restructure the company and implement all proposed options of restructuring with or without                           amendment and approval of court company will be able to run, if not court issue order of liquidation of such company                        which cannot implement restructuring program and company will be in no existence.
5. Conclusion :
Not closing a company can damage your credit rating, making it difficult for you to obtain loans or conduct business in the future.
Additionally, you may be personally liable for any debts or obligations incurred by the company, which could have a significant impact on your personal finances. It's important to follow the proper legal procedures for closing a company in Nepal to avoid these potential consequences.
Please contact us today itself if you are in search of Labor lawyer in Nepal on +9779841933745 or email info@lawinpartners.com
Disclaimer: All contains available here are for general information purposes. A proper legal solution always depends on your particular circumstances thus seek advice from an attorney who can provide assurances of the information contained herein and interpretation of it.  All liability with respect to actions taken on the basis of the site's information is hereby expressly disclaimed.