Tort Lawyers in Nepal
A basic principle of tort law is that person being a member of society, have a duty to behave responsibly towards others. Damage or loss caused by negligent act of his/her will be liable for compensation to the victim.
What is Tort Law?
The loss or damage resulted from such recklessness act shall be deemed to be a tort. Tort claims occurs when someone commits wrong against another person either by any default, negligence or recklessness.
Tort law makes civil wrongdoers liable/payable for causing loss or harm to body, life or a property by their negligent activities. Simply it's a civil law that aims to return damage loss or provide compensation to the victim for his/her loss by the offender.
When tortious liabilities begin:
Wrongful act or omission results to legal damages to another,
Negligence or Recklessness act which aftermath give rise to a legal remedy.
Legal Provisions for Tort law practice in Nepal:
Muluki Civil Code, 2074 chapter-17 has addressed about the torts related disputes in Nepal.
Who are liable for tortious liabilities?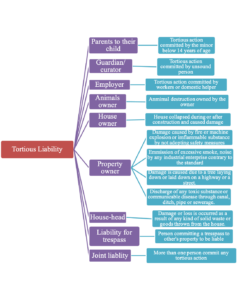 Legal remedy on tort related offence in Nepal: Civil Remedy from Tort Lawyers in Nepal 
The legal remedy of civil wrongs (tortious act) is normally regarded as compensation during tort law practice in Nepal.
First victim or aggrieved party claims the concerned authorities or to an individual for his/her loss, if such claims is not addressed reasonably, lawsuit is filed in the court.
If victims claim in the court, then court shall fine the perpetrator with reasonable compensation as per the valuation of damage. The compensation may be of any type, in the form of either cash or kind or service.
Time Limitation for filling lawsuit (case) on damages by negligence of recklessness acts in Nepal:
The victim shall make a lawsuit on tort related disputes in Nepal within six months since the date on which such an act happened.
Tort law practice in Nepal: Tort Lawyers in Nepal 
Tort law practice in Nepal is considered a new for the courts in tortious activities. This law is not much applied in tortious disputes. Legal process for failing the lawsuit of torts is as per the civil legal proceedings. However, tort law in Nepal does not distinguish kinds of liabilities for intentional, negligent or strict liability. Tort law do not mention about what kind of elements and with which standards of evidences tort disputes can be proved, thus anybody can file false allegation of tort through the assistance of tort lawyers in Nepal. Now how the tort law will be practiced in court, how those provisions will be interpreted and enforce is still matter of test. Reasonable compensation as per the nature of loss to the victim must be given.
Disclaimer: All contains available here are for general information purposes. A proper legal solution always depends on your particular circumstances thus seek advice from an attorney who can provide assurances of the information contained herein and interpretation of it.  All liability with respect to actions taken on the basis of the site's information is hereby expressly disclaimed.